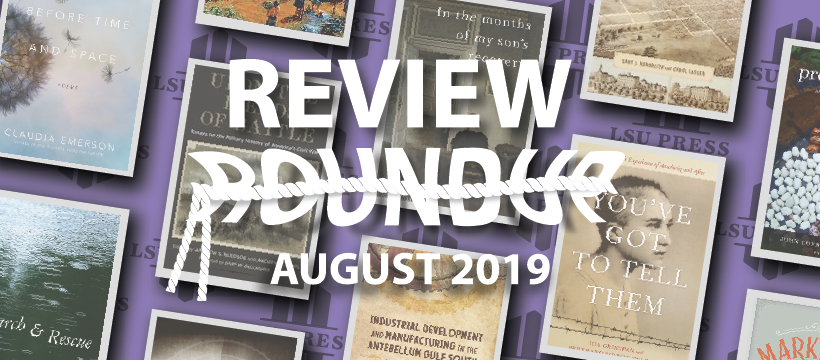 LSU Press publishes the works of a host of talented authors. Each month, we take a moment to recognize the impact these authors and their works are having on communities nearby and around the world.
---
Scholarly
Lawrence A. Kreiser, Jr.'s volume Marketing the Blue and Gray: Newspaper Advertising and the American Civil War has been getting quite a bit of buzz this month. Last month, it was honored by Spine Magazine for its beautiful cover. This month, it was featured on Page 99 Test, where Kreiser himself applied the page 99 test—flipping to page 99 and telling the audience what they could glean about the book by looking at a single page—to his book. You can read more about his conclusions here.
Three LSU Press titles were featured in the latest issue of Civil War Book Review: Andrew S. Bledsoe and Andrew F. Lang's Upon the Fields of Battle: Essays on the Military History of America's Civil War; Michael S. Frawley's Industrial Development and Manufacturing in the Antebellum Gulf South: A Reevaluation; and Robert Heinrich and Deborah Harding's From Slave to Statesman: The Life of Educator, Editor, and Civil Rights Activist Willis M. Carter of Virginia. You can download this issue and read the reviews here.
Gary J. Kornblith and Carol Lasser's Elusive Utopia: The Struggle for Racial Equality in Oberlin, Ohio garnered a great review in last month's Choice Connect. Reviewer B. N. Newman gave this book a "highly recommended" summation.
H-France reviewer Katherine Rouseau recently read Ida Grinspan and Bertrand Poirot-Delpech's You've Got to Tell Them: A French Girl's Experience of Auschwitz and After, calling it "a valuable first-hand account," particularly for teachers wishing to introduce Nazism to students. Think the beloved Lois Lowry classic Number the Stars, but from the perspective of an actual survivor of the Holocaust. You can read the full review here.
Trade
We're still a few months away from publication of John Coykendall's Preserving Our Roots (you can still pre-order it!), but people are already talking about this book. One of those people is former California First Lady Maria Shriver. She expressed her enthusiasm for the book and writer/gardener/seed saver Coykendall on her website. "Ask John about tomatoes or garlic or seeds," she says, "and he will give you a history lesson on each and tell you what to eat, when." Read the full article here.
Kate Daniels' latest collection of poetry, In the Months of My Son's Recovery, has some difficult—and timely—themes. Chief among them is addiction, as well as changing attitudes towards the affliction and its causes. Daniels was recently interviewed for Chapter 16, where she and interviewer Maria Browning unpacked the subject. "Addiction kills mutuality by taking people away from themselves, as well as separating them from those who love them," says Daniels. Read more of the interview on Chapter 16.
Two LSU Press titles have been shortlisted for the Library of Virginia's Literary Awards: Michael Chitwood's Search and Rescue and the late Claudia Emerson's Claude Before Time and Space. These titles are up against some great collections. We will have to wait until October 19 to find out who the winners are!
---
For the latest news about LSU Press books, authors, and events, sign up for our monthly newsletter, and follow us on Twitter, Instagram, and Facebook.