As we gear up for National Poetry Month, we wanted to share some good news from March! Civil War Logistics By Earl J. Hess was selected as the winner of the 2017 NYMAS Eugene Feit Award in Civil War Studies. Matthew Baker was interviewed in PANK. Genevieve Trimble's Afton Villa was given an Honors Award in the communications category from the Louisiana Chapter of the American Society of Landscape Architects. She was also awarded the Patron of Landscape Architecture Award for her lifetime contributions. Adam Vines and Wayne A. and Shirley A. Wiegand wrote fantastic posts for the LSU Press Blog. And we published new books by Ann Brewster Dobie, Nancy Tregre Wilson, Barbara Bellows, Adam Vines, Emily Epstein Landau, and Michael Chitwood.
Below you'll find a list of our April titles, upcoming events with our authors, and some recent publicity and reviews of our books. If you want to keep up with the press in real time, follow us on Twitter, Instagram, and Facebook!
---
New in April
---
Click here if calendar does not load.
---
Selected Publicity and Praise
From Nothing by Anya Krugovoy Silver:
"In this remarkable collection, Silver has woven a crown of beauty out of ashes. And in the face of mourning, she provides readers with sporadic and well-placed healing drops of the oil of joy."—M. Lee Alexander, Anglican Theological Review
The Photojournalism of Del Hall by Richard Campanella:
"The Photojournalism of Del Hall ultimately functions (very successfully) on several levels – as biography, as (post-WWII New Orleans ) history, as inspiration for would-be photojournalists, and not least of all, as an American success story." —Jefferson Hendrick, Nola Diaspora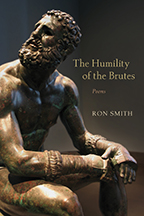 Humility of the Brutes by Ron Smith:
"In his fourth collection, former Poet Laureate of Virginia Ron Smith dazzles with muscular verse…"—Virginia Living 
Treating the Public by Rachel Ball:
"She writes with brio and turns pleasing phrases…This book will no doubt prove to be a useful work of interdisciplinary history for scholars from many disciplines."  —John Slater, Journal of Interdisciplinary History
An Artisan Intellectual by Christopher Ferguson:
"Christopher Ferguson's An Artisan Intellectual: James Carter and the Rise of Modern Britain, 1792-1853—which is well-organized. . . well-written, based on solid research, and abounding in shrewd argument—offers a reminder that for people who lived through those decades, stability might not have been what struck them most."—Victorian Studies
Schooling in the Antebellum South by Sarah Hyde:
"Sarah Hyde's Schooling in the Antebellum South is a refreshing intervention in the understanding of public education across the antebellum Gulf South states."—Journal of the Civil War Era
Remembering Reconstruction by Carol Emberton and Bruce E. Baker:
"These uniformly excellent essays. . . hold together in a coherent, sensible collection, making this volume a success. The essays also reveal the potential richness of Reconstruction memory studies that should draw readers and scholars beyond the ever-growing list of publications concerning Civil War memory. There still remains work to do on memory and Reconstruction, but this collection will necessarily be an essential starting point for that future research."—Civil War History
New Directions in Slavery Studies by Jeff Forret and Christine E. Sears:
"This volume offers readers some fresh ways of thinking and new insights about how slavery scholarship is developing."—Journal of the Early Republic
The Guerrilla Hunters by Brian D. McKnight and Barton A. Myers:
"It was refreshing to see the extent to which the contributors to The Guerrilla Hunters engage with new sources, use innovative methodologies, and create new angles from which to view Civil War irregular conflicts."—Journal of the Civil War Era