I grew up in Miami, Florida – a town that is no stranger to the effects of natural hazards – and for most of my life, the ever-present threat of disaster was never far away. In some ways, life in South Florida revolves around a cycle of annual hurricane seasons. Every year around May, the local supermarkets put out the information leaflets about the importance of preparing for the big storms that form in the warm waters of the North Atlantic Ocean from June through November (and nowadays, even later). In my experience, most of these tropical storms or hurricanes – and the strong winds, floods, storm surges, and tornadoes that can accompany them – would either bypass us, or cause relatively little damage (that "Never Forget" meme of a knocked-over yard chair comes to mind; it emerges each time a city is met with a weaker storm than expected). But this would not be the case on the night of August 24, 1992, when Hurricane Andrew barreled toward my hometown, eventually making landfall as a category 5 hurricane in Homestead, about 30 miles south from where I lived. To this day, that remains the scariest night of my life.
As a professor of history, my research usually focuses on the study of disaster and crisis in the eighteenth-century Atlantic World, but one of my objectives, both in my research and in the classroom, is to tie my work to the present as much as possible in order to emphasize the relevance and significance of historical study in the modern world. This volume, Environmental Disaster in the Gulf South, was thus born of these efforts, and of my personal experiences growing up in one of the world's most disaster-vulnerable regions. The Gulf South region of the United States – which encompasses Florida, Mississippi, Alabama, Louisiana, and Texas – has a long history with environmental disasters, including not only sudden-onset hazards like hurricanes, floods, or disease outbreaks, but also slow disasters, like rising sea levels, disappearing wetlands, deteriorating infrastructure, among others. So my objective in compiling the collection of essays that make up this interdisciplinary volume is to draw lessons from the Gulf South's experience with its environment, lessons that are applicable across the globe, as regions all over the planet struggle with the effects of climate change, coastal erosion, population growth, urbanization, poverty and environmental injustice, and so on.
Of course, this volume could not have been possible without the important work of scholars – historians, anthropologists, sociologists, geographers, and others – whose work has contributed to the quickly expanding field of disaster studies. If you would like to learn more about this field, or more specifically, about the history of disasters in the Gulf South and beyond, here are some of the books that inspired me to compile Environmental Disaster in the Gulf South.
---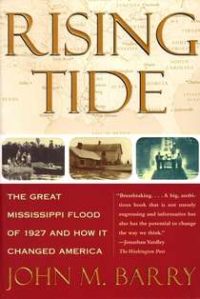 John M. Barry, Rising Tide: The Great Mississippi Flood of 1927 and How it Changed America (Simon & Schuster, 1997).
Craig E. Colten, An Unnatural Metropolis: Wresting New Orleans from Nature (Louisiana State University Press, 2005).
Mike Davis, Ecology of Fear: Los Angeles and the Imagination of Disaster (Metropolitan Books, 1998).
Kevin Fox Gotham and Miriam Greenberg, Crisis Cities: Disaster and Redevelopment in New York and New Orleans (Oxford University Press, 2014).
Susanna M. Hoffman and Anthony Oliver-Smith, eds., Catastrophe and Culture: The Anthropology of Disaster (School for Advanced Research Press, 2002).
Naomi Klein, The Shock Doctrine: The Rise of Disaster Capitalism (Picador, 2007).
Scott Gabriel Knowles, The Disaster Experts: Mastering Risk in Modern America (University of Pennsylvania Press, 2011).
Christof Mauch and Christian Pfister, eds., Natural Disasters, Cultural Responses: Case Studies Toward a Global Environmental History (Lexington Books, 2009).
Ted Steinberg, Acts of God: The Unnatural History of Natural Disaster in America (Oxford University Press, 2006).
---
Cindy Ermus, assistant professor of European history at the University of Lethbridge in Alberta, specializes in the history of disaster, crisis (including revolution), and the environment in the eighteenth century. A native of South Florida, she has also published on the history, culture, and environment of the Gulf South. You can find her on twitter as @CindyErmus.
Buy Environmental Disaster in the Gulf South today and don't forget to follow LSU Press on Twitter, Instagram, and Facebook!