In celebration of LSUP's 80th anniversary the staff selected 80 of our most memorable titles. Adding to our "Around the Press in 80 Books" blog series, Copy and Publicity Coordinator Jenny Keegan writes about The New Orleans of Lafcadio Hearn.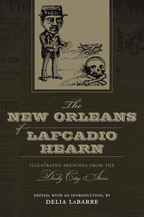 Known for his lively depictions of Gilded Age New Orleans and a vast array of writing about Japan, Lafcadio Hearn had a cartoonishly awful childhood. Ditched by both of his parents when they took off for (separate) warmer climes, then later sent off to America with good wishes by his aunt, whom he never heard from again, Hearn was ultimately plunked down in Cincinnati at the age of nineteen with $25 to his name.
Instead of giving up all hope and dying of hunger in a back alley as I would have done (I lack pioneer spirit), Hearn forged himself into a sensationalist journalist for the Cincinnati Daily Enquirer's murder beat. In 1877 he upped sticks and moved to New Orleans, of which he said, "It is better to live here in sackcloth and ashes, than to own the whole State of Ohio." Stop it, Lafcadio, you're making everyone blush. (Except Ohio. Ohio's over there sharpening pitchforks.)
But Hearn's journalism about New Orleans was hardly panegyric. The New Orleans of Lafcadio Hearn, edited by Delia LaBarre, brings together a collection of Hearn's 1880 satirical writing and cartoons for the Daily City Item. The collection gives us Lafcadio Hearn at his most curmudgeonly, as he waxes poetical about everything in New Orleans that draws his ire, from foot traffic—
And for the same reason that some folks walk four abreast with disgusting slowness so that busy and energetic people must go into the middle of the street to pass;—

So do wagon drives persist in slowly driving beside street cars on narrow streets instead of driving before or behind, and leaving the thoroughfares clear to others.
—to disrespectful house servants—
The naughty nurse maid hates quiet, respectable elderly looking people, and occasionally runs a perambulator over their toes just for the fun of "making them mad."
—to the first electric lights in the city's West End.
The insects hung about the lights like thin clouds about the face of the moon. . . . They entered Micholet's restaurant uninvited, and pounced like Harpies upon the viands, spoiling what they could not carry away. . . . It seems not improbable that the electric lights exercise a certain fascination upon them, and perhaps also the sound of music; for mosquitoes have a fine ear for harmony.
Hearn brings the hazards and frustrations of the Gilded Age to vivid life in these vignettes, accentuated with meticulously carved woodcuts and endnotes by Labarre that clarify the political and social contexts for Hearn's satire. A tribute to a long-lost—yet still familiar—iteration of the Crescent City, The New Orleans of Lafcadio Hearn offers a fascinating depiction of the frustrations and joys of life in New Orleans in the 1880s.
Buy this book now for 20% off and get free shipping on all orders over $50, use code 0480FAV at checkout.